[ad_1]

A feisty Novak Djokovic weathered a bizarre form slump to defeat Tommy Paul in straight sets 7-5 6-1 6-2, advancing to his 10th Australian Open final, where he'll take on third seed Stefanos Tsitsipas.
Djokovic stormed to a commanding 5-2 lead in the opening set, but a litany of unforced errors and some inspired tennis from Paul saw the American break Djokovic twice to level proceedings at 5-all.
Serving to send the opening set to a tiebreak, Paul faltered despite having a 30-0 lead, with Djokovic breaking serve to take the opening set.
Watch Tennis Live with beIN SPORTS on Kayo. Live Coverage of ATP + WTA Tour Tournaments including Every Finals Match. New to Kayo? Start your free trial now >
It was an emotionally-charged Djokovic, who goaded some of the crowd into jeering him with an 'I can't hear you' motion after winning the opener. From there, the nine-time Australian Open champion bolted away with the match on the scoreboard, but was forced to weather periods of challenge from Paul.
He ultimately did so, booking his spot in the final where he'll face Tsitsipas in a rematch of the 2021 French Open final that saw Djokovic recover from a two-sets-to-love deficit.
Djokovic and Tsitsipas' second grand slam final encounter has plenty on the line, with the winner to dethrone Carlos Alcaraz as world No.1.
For Djokovic, a win would see him go level with rival Rafael Nadal on 22 grand slam singles titles, and extend his Australian Open record with a 10th Melbourne Park crown.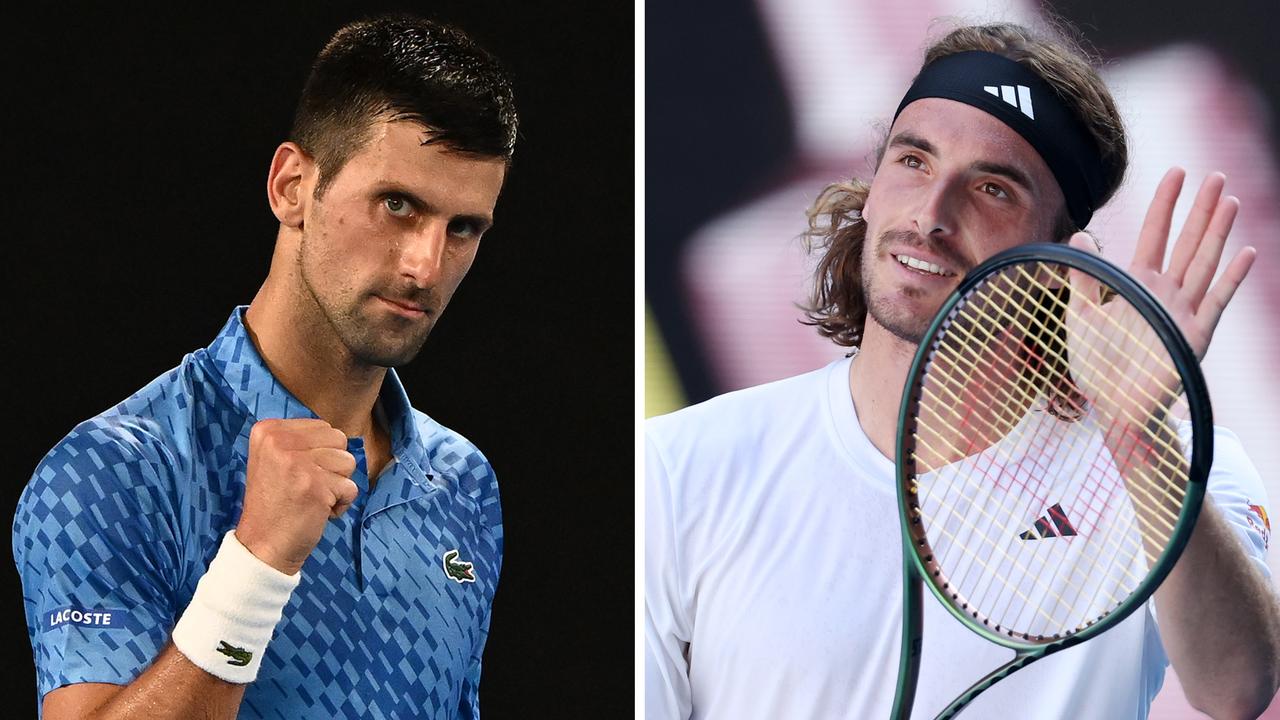 LIVE DJOKOVIC-PAUL MATCH REPORT
"This is an unusual start for Novak," Todd Woodbridge explained on Nine, as the nine-time champion faced two break points in his opening service game.
He made several uncharacteristic errors, but strong serving including a pair of aces allowed him to rebound and eventually hold after more than seven minutes.
While that lengthy game gave Paul the chance to "get loose" without the pressure of defending his serve, per Jim Courier, it didn't seem to work for him as he fell down 0-40, and the American could only save one of those break points. Djokovic quickly led 3-0.
Paul wasn't going down without a fight, getting it to deuce on Djokovic's serve at 3-1, but a break continued to elude him. One point won by Djokovic left Prime Minister Anthony Albanese, sitting in the crowd, particularly stunned.
Paul's speed was on display at 4-1, making up incredible ground to ensure a Djokovic drop shot wasn't a winner, but he continued to make errors – 13 through seven games to just two winners. That ensured another break.
Serving for the set, Djokovic cracked it at the chair umpire over the timing of the serve clock.
The Serb complained the clock had begun when he was going for his towel – even though the clock is always supposed to start as soon as the umpire calls out the score following the previous point.
"The ballkids are not allowed to give me the towel. Tell me how it works if it's not working," he complained.
"It's the first time I've gone to get the towel this game."
Courier explained: "Novak is trying to figure out when the clock should start. And the way it works is it starts when the chair umpire calls the score.
"It's not when a player gets to the towel box. That is a misunderstanding of the rule from Novak. If it's a quick point, like an ace, the clock will start a lot faster than if it is a 10-shot rally.
"The crowd will get a bit gnarly with him. Then he's got to fight off not just Tommy Paul, but quite a number of the spectators. Strange."
Djokovic immediately handed Paul a break opportunity which he gladly took to stay in the set at 5-2.
With the crowd roaring in approval, Paul quickly held and then led 0-30 in a bid to get the set back level.
"This is a substantial drop-off from Novak," Courier said.
A Djokovic unforced error gave the American two break points. One was saved by an ace; the other saw the No.4 seed crack first in a lengthy rally. Suddenly things were on serve.
Through nine games Djokovic had hit more unforced errors (22) than he did in his entire quarter-final against Andrey Rublev (21).
Yet, out of nowhere, Djokovic claimed the set 7-5. Paul was serving to force a tiebreak and led 30-0 before getting tight.
First a remarkable point saw Djokovic barely save a ball with a desperate backhand, Paul then bungling the ball into the net. Then the American double-faulted, putting the Serb on set point, and an unforced error after a lengthy rally decided it.
Things looked to be getting back on schedule early in the second set as Djokovic earned two break points in the second game; he lost the first with a poorly-chosen drop shot, but Paul quickly erred on the second to trail 0-2.
Djokovic appeared to need energy in the next game, calling for his special concoction from his players' box and doubling over in fatigue. He then had to save multiple break points – doing so once with an ace – before finally consolidating for 3-0.
The Serb could then be seen consuming a tablet of some sort.
Courier questioned whether Djokovic would try and save energy in the ensuing game, but instead he jumped out to a 0-30 lead and then secured a double break.
We saw a repeat of the first set, with Djokovic holding set point serving at 5-1 – but the difference this time was he converted it comfortably. That gave him 6-1 and a two-set lead.
Djokovic was not far from the final when he broke to begin the third set, followed by a second break for 4-0.
From there the result was academic.
Stef gives Philippoussis a cheeky dig | 00:33
TSITSIPAS INTO AUS OPEN FINAL FOR FIRST TIME
Stefanos Tsitsipas is into his first Australian Open final after taking down Karen Khachanov in a pulsating semi-final on Friday afternoon, 7-6(2) 6-4 6-7(3) 6-3.
The Greek superstar will face Novak Djokovic in a match also for the world No.1 ranking.
Djokovic holds a 10-2 winning record against Tsitsipas, with the Serbian winning their past nine clashes.
Tsitsipas won a seesawing opening set which saw both players broken twice in the opening nine games on Rod Laver Arena.
It ultimately took a tiebreak to settle the opening set and, despite being pinged for a footfault, Tsitsipas stormed to a 6-2 lead before taking out the opener. The second set was broken open by some stunning tennis from the former French Open finalist, but blinked when up by a break in the final set and serving for the match.
Despite holding two match points in the eventual tiebreak, Tsitsipas was outplayed by a braver Khachanov, who strung together four straight points at 5-6 to send the match to a fourth set.
Tsitsipas broke early in the fourth, however, putting him in command of the match and he served out the match at 5-3 to book his spot in the final. It marks six consecutive victories over Khachanov for Tsitsipas.
LIVE TSITSIPAS-KHACHANOV MATCH REPORT
Stefanos Tsitsipas won a seesawing opening set against Karen Khachanov, which saw both players broken twice in the opening nine games of their semi-final clash on Rod Laver Arena.
Tsitsipas set up the opening break with a lightning forehand down the line making it 0-30 and two points later he converted for a 3-1 lead.
But it proved the first of four straight breaks in the match, with Khachanov hitting straight back as both players struggled to hold serve.
A long deuce rally at 3-4 ended with Khachanov pushing a passing shot wide and Tsitsipas made him pay for it by breaking on the next point.
The Greek star was then serving for the set but surrendered the game with four unforced errors, including two double faults.
At 5-5, Tsitsipas then copped a second time violation at 0-15 which saw him lose his first serve and then faulted to make it 0-30.
But the Rod Laver Arena crowd rallied behind the No. 3 seed and he was able to fight back as the set went to a tiebreaker.
Tsitsipas was pinged for a foot fault at 3-1 during the tiebreaker, but he landed the second serve and won the point for a 4-1 lead, and then closed it out 7-2.
Tsitsipas had a golden opportunity to pick up where he left off at the start of the second set but couldn't convert any of his three break points at 1-1.
The 24-year-old received his third foot fault of the match at 40-15 on his second serve and the game went to deuce but he held to make it 4-4.
The most pivotal point of the match arrived in the next game at 15-30 when Tsitsipas twice returned smashes right off the back fence to keep the rally alive before whipping a cross-court forehand winner as the crowd exploded.
Khachanov was broken on the next point and Tsitsipas then held serve to love to close out the set 6-4.
The Greek star then got the opening break of the third set before consolidating for 3-1, inching ever closer to the final.
Nine's Jim Courier succinctly summed up the match as Khachanov battled to get back into it.
"The frontline guys in men's tennis in recent years have been so good on both offence and defence, and Tsitsipas certainly qualifies in that camp," Courier said.
"And then you have other players that are really good offensively but are a little more limited defensively, and I would put Khachanov in that category, and especially over best of five sets, it can really get exposed.
"It didn't used to be that way in generations past, you could be one or the other and still have a lot of success, but the game has moved on, and now it's very difficult to have sustainability, I think, if you can't stay in points with defence."
Khachanov was forced into a major battle at 2-4 just to hold and stay within a break, though he eventually managed to do so.
Tsitsipas served for a spot in the final at 5-4 but the Russian battled brilliantly on break point, saving the point numerous times before a Tsitsipas error kept him in the match. A tiebreak was soon upon them.
Tsitsipas earned the first mini-break to lead 5-3, then served his way to two match points. Khachanov saved the first with a brilliant, lengthy rally to get the tiebreak back on his racquet, then painting the line twice in the same point to get it to 6-6.
The Greek completely skied one to hand Khachanov a set point, then an unforced error gave the Russian the set 7-6(6).
Tsitsipas didn't let that disappointment phase him too much, breaking Khachanov at the earliest opportunity in the fourth set and leading 3-0.
He again found himself serving for a spot at the final, this time at 5-3 with the advantage of new balls, and immediately dashed out to 40-0 as the crowd went wild. He butchered the first of three match points before a return error from Khachanov sent Tsitsipas into the final.
Winning shot from CRAZY ANGLE for Aussie | 00:40
AUSTRALIAN OPEN DAY 12 – ORDER OF PLAY (All times AEDT)
Semi-finals
Rod Laver Arena
[3] Stefanos Tsitsipas (GRE) def [18] Karen Khachanov (RUS) 7-6(2) 6-4 6-7(6) 6-3
Night session from 7:30pm
[4] Novak Djokovic (SRB) def Tommy Paul (USA) 7-5 6-1 6-2
Follow the Australian Open in the live blog below!
[ad_2]

Source link