[ad_1]

Australia is in big trouble in the first Test in Nagpur after India compounded the tourists' woes with the bat, reaching day one stumps at 1-77.
After Australia was rolled for 177, failing in yet another big spin assignment, the deficit is already just 100 runs.
These are the talking points from day one of the first Test in Nagpur.
Watch Australia's Tour of India. Every Test & ODI live & ad-break free during play on Kayo. New to Kayo? Start your free trial now >
'HARD TO BELIEVE': Aussie legends fume at baffling selection bombshell
'Unstoppable': Jadeja takes five-wicket haul in Test return as Australia crumbles in Nagpur
Renshaw DUCK after taking Head's spot | 00:32
GREAT AUSSIE MYSTERY A 'F***ING DISGRACE'
The biggest story before a ball was bowled was how Australian selectors sensationally dropped the team's most in-form batter Travis Head.
That was still the case hours later after Australia was rolled for 177.
Hindsight is always 20-20 and so on… but it just has to be noted that Australia's batting performance could not have been any worse with Head in the team.
Only selectors will know exactly the train of thought that led to the dropping of a player who averaged 87.50 from his past five Tests.
No doubt front of mind would've been Head's record in Asia; a valid concern with the batter averaging just 21.30 from 11 innings on the continent.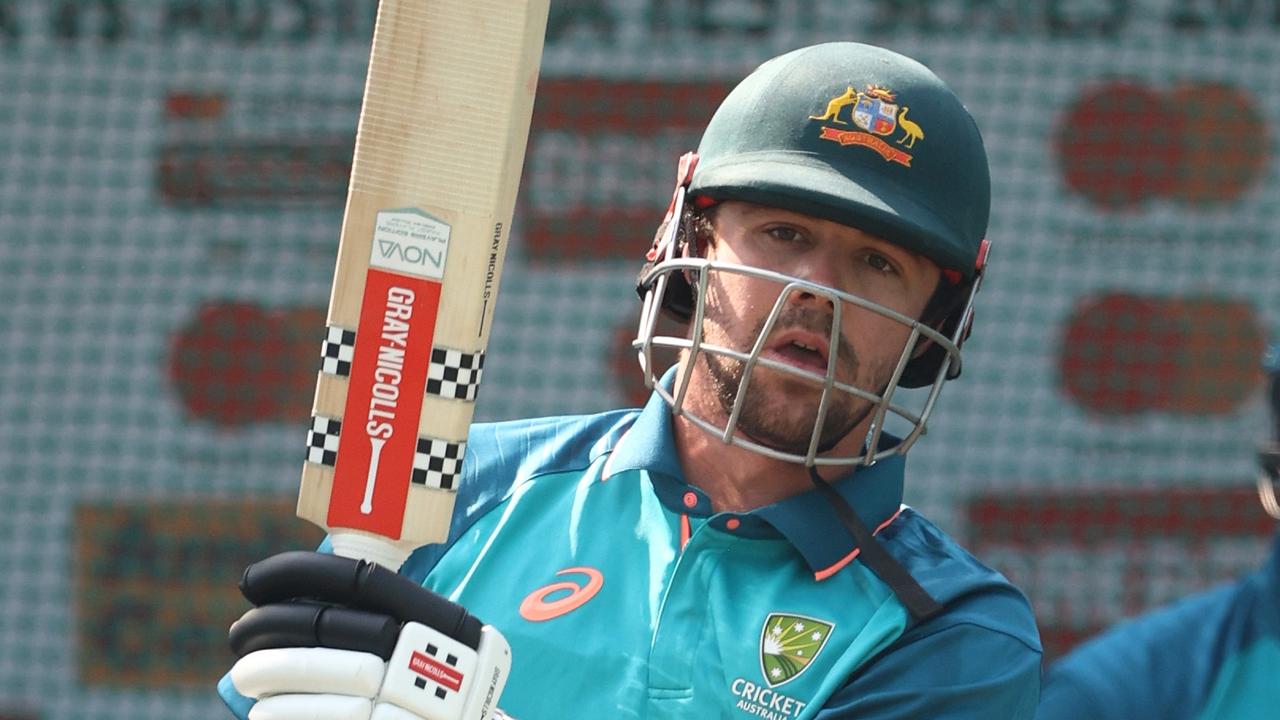 Having five left-handers in the top seven would've also been a big factor, leading to the right-handed Peter Handscomb being picked.
Why Matthew Renshaw — a player who had faced just 11 balls in Test cricket since April 2018 — was the one retained over Head likely pertains to his experience in India, where he toured in 2017.
He was dismissed for a golden duck.
Head's former Redbacks teammate Chadd Sayers said dropping him was a "f***ing disgrace".
Meanwhile, veteran cricket writer Robert Craddock wrote that the selection could have ramifications for a long time yet.
"The danger in dropping Travis Head when he is in such good form is that you mess with his mind as much as his future," he wrote for News Corp.
"Australia has always liked Head but he's been a delicate manage and it's taken the selectors six years of cursing and cajoling, dropping and recalling to get the man to meet his potential.
"And now he has been axed. You wonder what this will do to his confidence. Will he ever trust the system again?"
We can't say for sure how Head would've fared, but it's worth noting the positive impact Alex Carey had in his 33-ball stay (more on this below).
No player to make more than 10 runs for Australia had a strike rate above 40, but Carey scored more than a run-a-ball to advance his team's total in a crucial cameo.
Which brings us back to Head.
Speaking to foxsports.com.au before the series, he flagged that he would also go on the attack, learning the lessons from being too conservative in Pakistan and Sri Lanka last year, and from succeeding with an aggressive mindset since.
"In one-day cricket, I've had good success in Pakistan and Sri Lanka. You split the series up and my white-ball was really good, so maybe being a little bit more positive in red-ball cricket," Head told foxsports.com.au.
"Being slightly more positive makes my defence a lot better.
"I was probably not quite as aggressive as I would have liked to be against spin in those series away … other than that, I think I worked really hard and had a sound game plan."
Australia might've benefited from the attacking approach Head vowed, but has instead been left to ponder what might've been.
CUMMINS 'BUFFET' SINKS AUSSIES FURTHER
Having been bowled out for 177, there was plenty of pressure on Pat Cummins as he took the new rock for Australia's first over.
By the time he reached the top of his run-up for a fifth time, his figures already read 0-12.
It appeared to be simply an anomaly when he returned to bowl a maiden over, but his third went for 10 more runs.
Moments later, India wasn't even trailing by 150 and had all 10 wickets in the bank.
Too full, too straight, even drifting down leg side, Cummins was punished by Rohit Sharma in the opening rounds of India's innings, which proved to be massively deflating for the Australians.
To his credit, the captain pulled himself off for Scott Boland, but Rohit was already up and running, and Australia's lead was rapidly dwindling.
Cummins returned some time later but dished up another boundary, drawing strong criticism from Matthew Hayden.
"He's bowled an absolute buffet here today Pat Cummins," Hayden said in commentary. "A buffet of boundaries in his three overs.
"He's been way too full, and very uncharacteristic of Pat, who genuinely hits a very hard length. He just owns that space. He's been too full.
"He's got to get it right, there's no room to wiggle here. 177 is not enough for Australia."
Such displays can happen from opening bowlers from time to time, but it's hard to remember a time it's ever happened to Cummins, who is one of, if not the most, dialled-in bowlers in world cricket.
Already facing a mountain to climb in India, the path immediately became so much steeper on the very first day of the series.
Australia needed a response from its captain, but it was India's who did the damage.
JADEJA STUNS AUSSIES… BUT IT'S A GOOD SIGN FOR YOUNG DEBUTANT
After nearly six months on the sidelines nursing a knee injury, Ravindra Jadeja's return to international cricket couldn't have been more seamless.
The Indian tweaker was at the peak of his powers at Nagpur's Vidarbha Cricket Association Stadium, claiming 5-47 in 22 overs.
It was his fourth five-wicket haul against Australia in the Test arena. Since 1900, no cricketer has taken more Test wickets against Australia at a lower average than Jadeja.
Jadeja's spell was disastrous for Australia, but would have been a source of inspiration for Todd Murphy.
Rather than relying on the pitch for variation on Thursday, Jadeja mixed up his pace, release angle and length to ensure the Australians never felt comfortable in the middle. The left-hander would flight a couple of deliveries above the batter's eye line before darting in a faster one with a lower arm release.
The changes were small, but effective.
Murphy, who until six years ago was a seam bowler, also bowls with a flatter trajectory, has recently been working on his own assortment of subtle variations, including seam position and speed.
"That's something that I'm definitely working towards, trying to be able to have a stock ball that I can back in any situation against any batter," Murphy told foxsports.com.au earlier this summer.
"(Lyon's) stock ball is obviously just unbelievable. For me, I know it's not quite as good at the moment, so I probably rely a little bit more on variation to try and set a batsman up.
"I'd love to one day be able to say I don't need variation because my stock ball is good enough, but I know I'm not there yet."
Sixers assistant coach Cameron White, one of Australia's strike spinners during the 2008 Test tour of India, believes Murphy is equipped to trouble India's top order.
"One of Murph's real strengths is his subtle variations while maintaining his accuracy," White told foxsports.com.au.
"His ability to bowl long spells with those couple of little (variations), that will hold him in good stead … he rarely bowls a bad ball.
"Those conditions (in India) will suit him."
Murphy started strongly on day one, bowling seven probing overs that saw him take his first ever Test wicket, with KL Rahul out caught and bowled.
WARNER HAS 'GOT TO DO SOMETHING' ABOUT MAJOR WEAKNESS
A new series, against a new opponent, and on a new continent, yet David Warner's dismissal on Thursday was all-too-familiar.
For all the talk of Australia's ability to face spin on a dry surface, especially with a worrying patch on a good length for left-handers, Warner was undone by pacer Mohammed Shami in stock standard fashion.
The right-hander steamed in from around the wicket, angled the ball into Warner, found additional movement off the seam, and a split second later, the Australian's off-stump was violently ripped out of the ground.
Warner was left stranded on his crease and played late, displaying all the uncertainty you would expect from someone who has been tormented by right-handers from around the wicket since 2019.
His struggles to Stuart Broad in his Test comeback nearly four years ago are well known — but those issues have never truly gone away.
Warner's stump annihilated, out for 1! | 01:18
Shami's wicket on day one was the 38th time Warner has been dismissed by a right-hander in his past 45 Test dismissals. Those 38 wickets have come at just 28.31 runs apiece.
Of those 38, 31 were to right-arm pace bowlers, including nine from Broad and three from Jofra Archer who await at the Ashes later this year.
Speaking in commentary, legend opener Matthew Hayden said: "It just didn't look like he was really watching the ball.
"He looks worried about something when it comes around the wicket, and the stats certainly show that."
Hayden implored Warner to adopt a different approach moving forward, saying that his weakness was being "exposed regularly".
So what are the options?
"For mine, he can definitely bat off stump. He can even bat out of his crease in these conditions," Hayden said.
"He's not going to be worried about the short ball, is he Davey Warner? Because he's such a great player of the pull and hook shot.
"So getting stuck on the crease is the one thing he can't do.
"Get to the bowlers line, step into his line if you must, but provide an option because he's got to do something."
CAREY SHOWS HOW IT'S DONE
Alex Carey couldn't rescue Australia with the bat on Thursday, but the South Australian's counterattacking cameo provided a glimpse into his strategy for the Border-Gavaskar Trophy.
The 31-year-old waltzed to the crease with Australia in a spot of bother at 5-109 – subcontinent maestro Steve Smith was back in the sheds and India was one wicket away from exposing the tail.
The left-handed batters ahead of him had been dismissed for 1, 1 and 0, each beaten on the inside edge by swing and spin.
Carey, who averaged 91.00 during the recent home Test summer, immediately signalled his intent by reverse sweeping his first delivery past the point fielder for a boundary – and he persisted with the strategy, with all of his first 12 runs coming from sweeps, whether that be reverse or orthodox.
Some cricket traditionalists scoff at the reverse sweep, arguing its risk outweighs the reward – but there's method behind the madness. Playing with a horizontal bat negates the side spin on India's raging turners. Marnus Labuschagne, Smith, Matthew Renshaw and Pat Cummins were each dismissed from spinners that beat the inside or outside edge while playing with a straight bat.
Carey raced towards the thirties, forcing India to experiment with its bowlers and field placements – boundary riders were placed behind square for the spinners, while seamers were forced to toil with the old SG ball.
The South Australian treated Mohammad Siraj with disdain, repeatedly carving the paceman through point whenever he overpitched. It was reminiscent of what Travis Head achieved during the recent home summer against South Africa and the West Indies.
Carey eventually departed for 36 after miscuing a reverse sweep against Ravichandran Ashwin, deceived by the drift and bottom-edging the ball back into his stumps.
His stay at the crease was brief but wildly entertaining – and perhaps provided a blueprint for how Australia's batters should approach facing spin in the second innings. 
'Wasn't sure' Usman cops brutal LBW call | 01:02
[ad_2]

Source link