[ad_1]

India all but batted Australia out of the first Test on Friday with the hosts reaching day two stumps on 7-321 — a first innings lead of 144.
The scorecard is looking grim for Australia, but it wasn't all doom and gloom in Nagpur with debutant Todd Murphy proving why he's the heir apparent to Nathan Lyon, if not more.
Meanwhile, debate broke out between a trio of Aussie greats on day two as Australia's tactics to Virat Kohli came under scrutiny.
These are the Talking Points from day two of the first Test in Nagpur.
Watch Australia's Tour of India. Every Test & ODI live & ad-break free during play on Kayo. New to Kayo? Start your free trial now >
'INSULT TO KNEE INJURY': Aussie selection gamble backfires further as star sent for scans
Cricket world erupts as new Aussie cult hero stuns India with 'extraordinary' Test debut
MURPHY CEMENTS HIS STATUS
Todd Murphy was the hero for Australia on day two of the Nagpur Test, outclassing Nathan Lyon and cementing his status as the veteran off-spinner's heir apparent.
Despite only having seven first-class matches under his belt, Murphy beat out Ashton Agar and Mitchell Swepson for a spot in Australia's starting XI, and immediately proved his worth.
The 22-year-old snared a five-wicket haul in India's first innings on Friday to become the youngest Australian spin bowler to achieve the feat since 1882.
The jury's still out on whether dropping Travis Head was a mistake, but national selectors should be applauded for backing the spectacled off-spinner for the Border-Gavaskar Trophy series opener.
Australia had not picked two strike off-spinners in a Test match since 1988, traditionally favouring tweakers who turn the ball in opposite directions. George Bailey and his selection panel took a gamble, and it paid off.
Murphy's double strike on day two | 00:56
Murphy was more dangerous than Lyon on Friday, getting the ball to drift and threatening both edges of the bat against right-handers. In fact, all five of Murphy's wickets were right-handed batters, which off-spinners are traditionally less effective against, further highlighting his adaptability.
Lyon, meanwhile, struggled with his consistency throughout the morning session, hardly troubling Indian skipper Rohit Sharma throughout his marathon knock.
So when Australia took the second new ball after the tea break, Cummins threw the fresh cherry to Murphy, a fairly clear indication who the skipper believed was more likely to snare a breakthrough.
"I thought he was fantastic, I like the cut of his jib," former Australian spinner Kerry O'Keeffe said on Fox Cricket.
"Trajectory, loop, angle, curve … he's the future of Australian spin.
"The hitters can't get under him because he bowls a 92km/h loop. He's under their eye line.
"Murphy's natural seam rotation is so suited to Indian pitches … Lyon is a bounce bowler, and there's no bounce.
"(Murphy's) not looking to bounce the ball, he's looking to hit pads."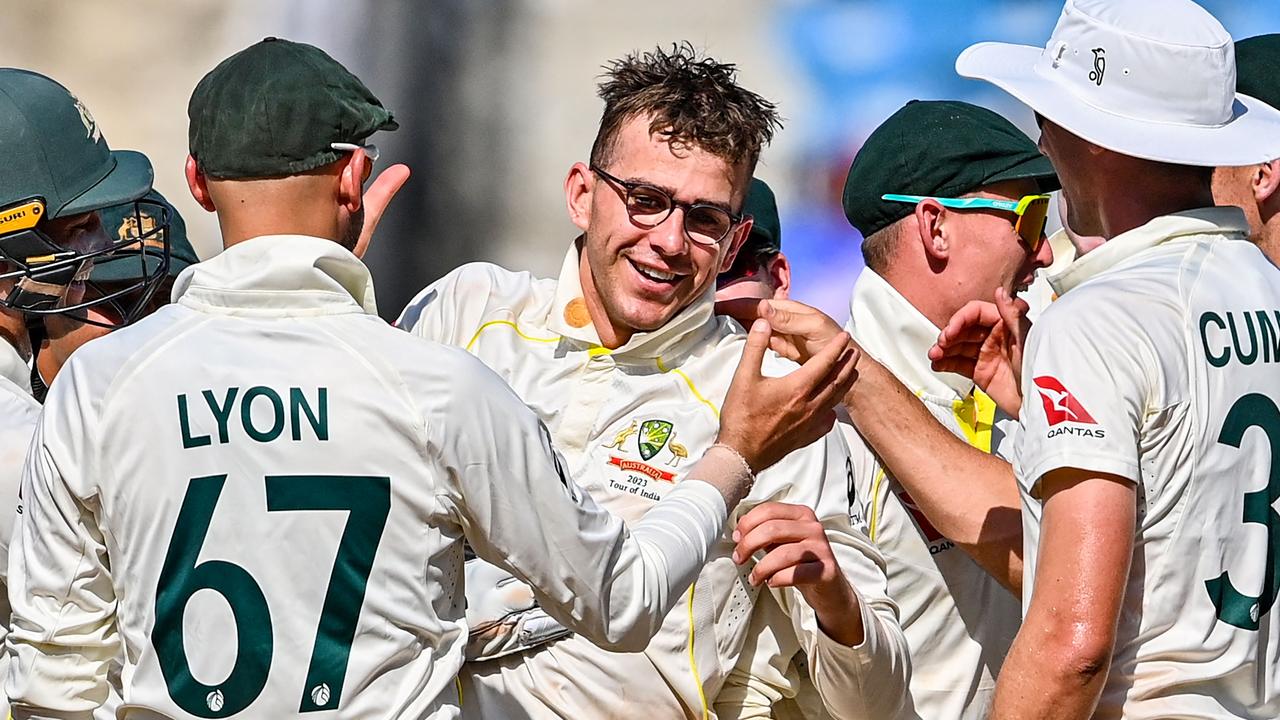 INDIA STAR WINS BATTLE OF THE CAPTAINS
Rohit Sharma's marathon knock was the difference between the two sides in Nagpur, with the Indian captain peeling off a defiant century to frustrate the Australians and put the hosts in a commanding position.
The 35-year-old, who had previously never scored a Test century against Australia, attacked rival captain Pat Cummins and bided his time against the spinners, waiting until Nathan Lyon and Todd Murphy overpitched before lofting them over the infield.
He set the tone at the start of the innings by slapping three boundaries in the opening over, as Cummins struggled to find his line and length.
Even as wickets tumbled at the other end on Friday, Sharma remained patient. He respected Murphy and Scott Boland, who relentlessly peppered a good line and length on Friday morning, waiting for the appropriate time to counterpunch.
India never seemed to be in any danger with Sharma at the crease.
He reached triple figures in the afternoon session with an elegant lofted drive, passing the milestone in 171 deliveries. At that stage, nobody else in the match had even scored a fifty.
It was like he was on a different pitch.
Sharma became the first Indian skipper to score a century in all three formats, and the fifth cricketer overall to achieve the feat.
His knock came to an end in the 81st over after Australia had taken the second new ball. After Steve Smith put down a chance at second slip, Cummins delivered an absolute peach that nipped away from the right-hander and sent the off stump cartwheeling towards the slip cordon.
But the damage had already been done – India's lead was approaching 100, and Australia's chances of victory were close to zero.
Ahead of a career-defining series for both skippers, Sharma is certainly winning the battle of the captains so far.
… BUT NEVER RULE CUMMINS OUT
Sharma might be winning the battle of the captains, but it should be said that Cummins enjoyed a vastly better day two compared to his day one.
Thursday was a disaster for the Australian captain who saw his side rolled for 177 despite winning the toss, before India raced out to 1-77 at stumps.
What made matters worse for Cummins, however, was that he had a rare, poor display with the ball, conceding 0-23 from his first three overs to send India on its way.
Cummins couldn't make an impact for much of day two either. While Scott Boland was going for little more than a run-an-over, Cummins was going for around four.
But a bowler of Cummins' calibre is never going to stay out of the contest for long.
With the second new ball, the fast bowler was clearly fired up after tea and looking to make amends.
With Sharma charging, Cummins finally had the answer, finding his outside edge — although Steve Smith dropped a simple slips catch.
It didn't matter. Undeterred, Cummins hit the crease again and produced a wonderball that nipped away just enough to beat the outside edge and take Sharma's off stump.
It's become something of a trademark ball for Cummins who dismissed Joe Root in 2019, and Kraigg Brathwaite in 2022, in similar, stunning fashion.
His brilliance on day two wasn't just with that delivery, which kept Australia marginally in the fight at the time.
Cummins' use of DRS was virtually perfect with the Australians' calm approach to reviewing decisions continuing to improve dramatically since the Tim Paine era.
Australia had two not out decisions for LBW overturned by successful reviews, handing Murphy two extra wickets.
Cummins also called for good reviews on two other occasions, with the Australians' retaining them on umpire's calls.
'REALLY SPECIAL': CAREY CONTINUES TO GROW
Wicketkeepers can sometimes go unnoticed in Test cricket, but Alex Carey made sure his glovework made it onto the day two highlights reel with a superb catch to remove Indian superstar Virat Kohli on Friday afternoon.
Australia returned from the lunch break desperate for an early breakthrough, with Indian captain Rohit Sharma approaching triple figures at Vidarbha Cricket Association Stadium, but they didn't have to wait long for a wicket.
Debutant off-spinner Todd Murphy, who had already taken three wickets in the first innings, started the afternoon session with a delivery that pitched outside leg stump and held its line. Kohli attempted to flick it towards fine leg, but only managed to edge the ball behind to Carey, who held onto the tough chance low to his left.
Former Indian wicketkeeper Dinesh Karthik was full of praise for Carey after the dismissal.
"He's had a very good day with the gloves so far," Karthik said in commentary.
"And you can see what he's worked on a lot, just making sure his hands are low, and most importantly his head position, where it was before he could see the ball.
"You always get blinded when you go down the leg side for a split second, so you've got to hold your head a touch longer until you can see the ball, and then move it with your hands.
"If you move your head along with the gloves at some point of time, you're going to miss the ball, and that is what makes this catch really special."
Carey's debut Test series, a home Ashes campaign against England, was successful from a team perspective, but the South Australian gloveman was below his best, dropping multiple chances and averaging 20.33 with the bat.
But over the past 12 months, Carey has been exceptional with the gloves, settling into the role and rarely missing chances behind the stumps – mistakes were few and far between.
The 31-year-old has leaked just one bye in the first innings of the Nagpur Test, an impressive feat considering the deck's low bounce and inconsistent spin.
He did technically miss a chance late in the day, but it was a big deflection that was very difficult to adjust to.
'WE SHOULDN'T ACCEPT THAT': HOT DEBATE OVER AUSSIE PLOY
Australia's tactics late in the first session were a hot topic during the lunch break on Fox Cricket, with debate over whether the tourists let India off the hook.
Todd Murphy took two wickets to give the Australians some small momentum, but Brad Haddin and Brendon Julian suggested Australia was too conservative when Virat Kohli walked to the crease.
"I was surprised they had a deep mid-on for Virat Kohli early on," Julian said on Fox Cricket, before posing the question to Haddin and Kerry O'Keeffe.
O'Keeffe pointed out that Australia has long employed a long-on when Nathan Lyon is bowling — and has enjoyed plenty of success.
"And yet Lyon and the Australians always have a long-on, don't they?" he said. "They just feel that's part of their psyche.  
"For years the King, Shane Warne, said 'why is that man there', but it's enduring. We have to accept it, that's the way they like to bowl."
Haddin, however, wouldn't accept that as an excuse, urging the Australians to be more attacking in similar situations.
"I don't know if we should accept that," he said.
"We had Virat Kohli come to the wicket, we only had 15 minutes to play (until lunch). You challenge him to go over the top (of the field).
"He hasn't been going over the top early, he hasn't been in great form. So challenge him to do that. Might bring a catcher into mid-wicket. 
"I think they need to read the situation a bit better there Australia."
O'Keeffe, however, maintained that Australia has had plenty of success sticking to the plan with a fielder at long-on.
"They lost one Test last year and they've had a long-on forever," he said. "Hello? You're hard markers, you know? Come on, it's a winning formula." 
Ultimately, it mattered little. Kohli comfortably survived until lunch, but the Australians got lucky when he strangled one to Murphy with the first ball of the second session.
[ad_2]

Source link