[ad_1]

Where did it all go wrong for Australia?
Pat Cummins and his comrades touched down in the subcontinent less than three weeks ago, yet they've already lost the coveted Border-Gavaskar Trophy.
India defeated Australia by six wickets in the second Test in Delhi, with the visitors losing 9-48 in a dramatic second-innings collapse on day three.
The Aussies now have 10 days to recuperate ahead of the third Test in Indore, which gets underway on Wednesday, March 1.
Watch Australia's Tour of India. Every Test & ODI live & ad-break free during play on Kayo. New to Kayo? Start your free trial now >
TIME TO PUT AWAY THE BROOM
In victory, fresh from taking 7-42, Ravindra Jadeja was asked if it's a good idea to play the sweep shot to him.
He laughed, before adding: "Not on this kind of wicket."
If only someone told the Australians a few hours earlier.
Australia spectacularly lost nine wickets in just over 90 minutes to be bowled out before lunch on day three.
Most of the wickets came when either sweeping, or reverse sweeping, to Jadeja and Ravichandran Ashwin.
The shot proved virtually unplayable in the conditions, but the Australians kept going back for more until they were skittled for 113, amounting to a collapse of 9-47.
Why there was such a heavy reliance on the stroke despite repeated errors has been a major point of confusion in the aftermath of Australia's collapse, which cost the nation the series.
Mike Hussey said on Fox Cricket that the Australians "just gave it away" to the Indians, while Allan Border accused the tourist of being "panicky".
"They panicked. You can't tell me that the reverse sweep or sweeping on that sort of pitch is the ideal way of scoring runs on that surface," Border said. "There's got to be another method on that surface. It's the highest-risk shot.
"Why are they going to that shot so often?"
Hussey added: "It's a low percentage shot, particularly early in your innings when you're not used to the pace.
"It obviously didn't work … I think the Australians, they need to have some accountability for that performance and some of their shots.
"They need to come out and own it, and go: 'You know what? We stuffed up here. That was pretty ordinary batting'. And own it. It's okay to make mistakes but they've got to try and learn from it."
Smith's silly sweep gets punished! | 00:33
READ MORE
PLAYER RATINGS: Few shining lights in unthinkable collapse
CAN'T BAT IN ASIA? Head's belligerent cameo is bad news for Warner
The sheer numbers attached to Australia's use of the sweep shot are damning.
A quarter of Australia's 40 wickets in the series so far have fallen to sweep shots, including Steve Smith, Matt Renshaw, Pat Cummins and Alex Carey in the space of nine overs on Sunday.
According to the CricViz Analyst, Australia's sweep shot percentage in the second innings was a sky high 10.7 per cent compared to India's 1.4 per cent and 1.3 per cent in the first and second knocks respectively.
Captain Pat Cummins was asked about the tactic after the match, admitting that the ploy will go "under review".
"Everyone is in control of their own game. Some of it's planning – you'll get some balls with your name on it anyway, it wasn't easy," Cummins said.
"But I think that there'll be a review of shot choice. Did we got about it the right way? We'll work that out over the next few days."
Border said that reverse sweeps in particular should be reserved for T20 cricket, because Australia doesn't have the necessary exposure to execute it in a Test match – particularly in India.
"The hardest thing is we don't get exposed to it other than when we go to the subcontinent," Border said. "We play in Australia, we're playing a lot of one-day cricket, a lot of 20-20 cricket. You just don't get exposed.
"Your reverse sweeps work in a normal twenty-20 game because it's such a good batting surface. When you bat around the country, there's not many wickets that turn at all."
On the reverse sweep, Hussey added: "We're seeing ramps and all kinds of different shots we would never have seen 15 years ago … It's about when you choose it.
"It's a good shot to have in your armoury. But it's about playing it at the right time, against the right bowler, in the right conditions.
"I don't think they got that right."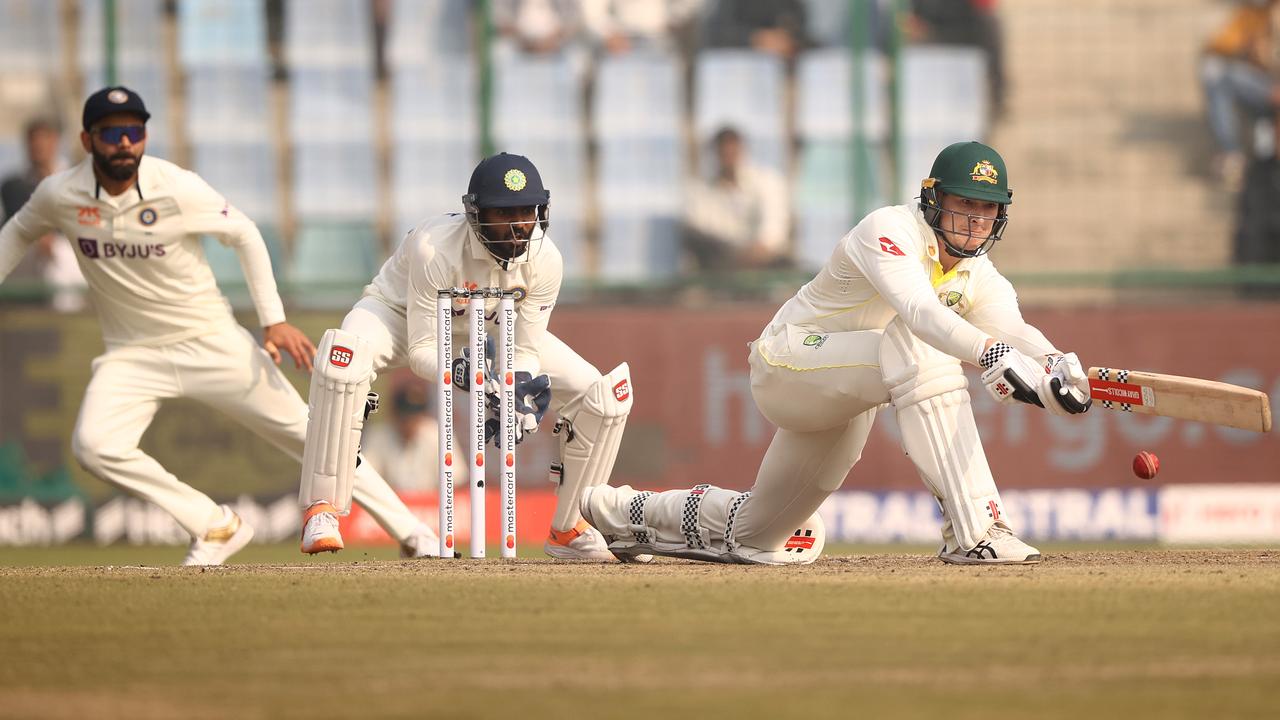 COLLAPSING PROBLEM NOW 'PSYCHOLOGICAL'
If Australia is ever going to make meaningful gains in India again, it will need to find a way to not only improve shot selection, but stop losing wickets in clumps.
Collapses were alarmingly consistent for Australia across the first two Tests with panic regularly setting in in key moments.
In Nagpur, Australia had a foot hold in the game at 5-162, but added only 15 more runs to be all out for 177.
The second innings brought even greater woe with Australia skittled for 91, losing all 10 wickets in the space of 65 runs.
In four knocks, Australia has only enjoyed one innings without total disaster – the first in Delhi saw it post a respectable 263. Even then, Australia might've been guilty of wastefulness having been 4-167.
Then there was the second innings collapse, which arguably trumped that in the second innings of the second Test, with Australia losing 9-47 in a session.
The collapses are not exclusive to India – Australia failed to claim last year's two-Test series against Sri Lanka having been rolled for 151 in the second innings.
Nonetheless, there's no denying that of all the teams in world cricket, India has Australia's number best.
"They're a real thorn in our sides at the moment, the Indians," Border said. "I think they've got us. It's psychological.
"We get our nose in front but never really feel comfortable that we have enough.
"Today was a perfect example, we had everything to play for, had taken the high ground, and the game is over four hours later.
"I mean, it just defies belief."
Hussey added: "It shows how tough you have to be the entire time the game is on.
"You can't afford to be good for the first innings and then let things slip. You've got to be good and tough for both innings. And the Australians unfortunately weren't … Australia weren't good enough for long enough."
DISASTER! Aussies lose 9 in 91 minutes! | 01:35
AUSTRALIA NO CLOSER TO UNLOCKING INDIAN CODE
It's been 19 years since Australia won a Test series in India, and who knows how long until that drought is broken.
Australia have won just one of their most recent 16 Tests played in India, and after two horrific second-innings collapses in Nagpur and Delhi, it's blatantly apparent they still have no idea how to win Test cricket in the Asian nation.
Andrew McDonald and the Australian squad travelled to the subcontinent three weeks ago full of confidence, adamant they could create history and defeat India in its own backyard.
A spin camp at North Sydney Oval was followed by a four-day training camp in Bangalore, where Australia could concentrate on individual skills and prepare for India's spinning minefields in a controlled environment.
They requested not to have any warm-up matches ahead of the Border-Gavaskar, trusting their specialised preparation would be adequate. Australia even hired a Ravichandran Ashwin impersonator, 21-year-old spinner Mahesh Pithiya, to serve as a net bowler ahead of the series opener in Nagpur.
"We'll expect the spinners to bowl early against our opening batters as well with the new ball so all that is taken care of in the training environment," McDonald told reporters last month.
"The key to success there is to have a clear method and that will be individually based and depending on the conditions we're confronted with.
"You're never going to get exactly the same as you're going to get in a game, and that's one of the real complexities around preparing for a cricket tour. You're never going to be able to match-up the same, but we can get close to that."
Plans were abandoned after last week's thumping loss in Nagpur – Australia took drastic action, flying Queensland spinner Matthew Kuhnemann across to India and rushing Travis Head back into the starting XI.
The Aussies also reinvented their batting strategy in the second innings of the Delhi Test, relying on sweep shots against India's world-class spinners, a move that backfired dramatically on Sunday.
Now, with the Border-Gavaskar Trophy out of their possession, Australia is seemingly left with more questions than answers on how to unlock their full potential in India.
It must be acknowledged that Australia batted and bowled considerably better in the Delhi Test than the series opener, and the tourists will be hoping they can carry that momentum through to the third Test in Indore. Otherwise their spot in the World Test Championships final could be in jeopardy.
AUSTRALIA'S KRYPTONITE STRIKES AGAIN
India has found Australia's kryptonite – and he wears a man bun.
Ravindra Jadeja claimed career-best figures of 7-42 in the second innings at Arun Jaitley Stadium, later named Player of the Match for the Delhi Test.
It continues a remarkable run of form for the Indian all-rounder in Test cricket against Australia – during the series opener in Nagpur, Jadeja snared 5-47 in the first innings before scoring a classy 70 with the bat.
He's already managed to dismiss Marnus Labuschagne, the world's No. 1 ranked Test batter, three times in the series to date.
The spinner was named Player of the Series for after finishing the 2017 Border-Gavaskar Trophy as the leading wicket-taker with 25 scalps at 18.56, also scoring two fifties.
Jadeja has taken 80 wickets at 17.23 in 15 Tests against Australia – since 1900, no cricketer has taken more scalps at a lower average than the 34-year-old.
He has also scored five fifties against Australia in Tests, his best performance with the bat being an elegant 81 during the 2019 New Year's Test at the SCG.
Jadeja is currently No. 1 on the ICC Test All-Rounder Rankings, and for good reason – since the start of 2017, he has averaged 45.41 with the bat and 23.64 with the ball in the game's longest formats. During that same period, David Warner has averaged 41.41 with the bat and Josh Hazlewood has averaged 25.97 with the ball.
He's a pest with the bat and a magician with the ball – Australia is seemingly at a loss when it comes to silencing the left-hander.
Curiously, there's nothing terribly remarkable about Jadeja's bowling – he's like a metronome, repeatedly sliding deliveries into the pads and hitting a good length. He has a couple of subtle variations, including release angle, speed and seam position, to keep the batters on their toes.
Despite this, the Australian batters look all at sea when Jadeja is plying his trade in the subcontinent.
AND WHAT ABOUT THE WTC?
Australia entered the Border-Gavaskar Series with only disaster standing in its way of a spot in the World Test Championship final, where the winner pockets A$2.33 million.
That disaster should still be avoided but, it must be said, it has come much closer to fruition.
With a 4-0 defeat in India, Australia leaves itself at risk of missing the final, which is now likely to feature the Asian nation.
Going 2-0 up against Australia has seen India knock fourth-placed South Africa out of the running to play in the final, leaving only Sri Lanka still in the fight.
Australia can lock-in its own spot by claiming just a single win or draw in India but, based on the first two Tests, that's an awfully difficult task.
After all, Australia has only won one of its past 16 Tests in India, while the first two matches of this series has seen the tourists average just 161 with the bat.
With that form line, it's hard to see Australia taking anything from the series.
If Australia was to lose 4-0, then Sri Lanka could sneak into the final with a 2-0 win in its next Test series.
That is still unlikely given Sri Lanka's opponent is New Zealand on away soil, where it has only ever won two of 19 Tests.
Nonetheless, the door is slightly ajar.
It's also worth noting that if Australia was to somehow win the final two Tests against India and Sri Lanka won 2-0, then India would be out.
[ad_2]

Source link